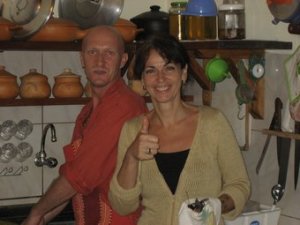 We are Stefano and Michela, born, raised and living in Milan for most of our life. We love a simple life in a simple within a pleasant environment and to share our passion for cooking and eating with the people around us.
We decided to change our life and take the courage to start all over in a different place, but.. where? First of all, on a quiet and safe place, close to the sea.
Unfortunately we didn't have enough money to buy / rent a restaurant in Italy, so we decided to open our mind.
Why not Brazil?
Okay, let's go to Brazil! It was a very nice holiday, we felt in a good mood and were
looking for a small village in Bahia. We discovered 'Barra Grande' and decided to begin a new life in this marvelous place, situated on the head of the Maraú Peninsula, surrounded by the bay of Camamu and the Atlantic Ocean with the village itself set in lush tropical nature. We have never had regrets of our move from Milan, Italy to Barra Grande, Bahia, Brazil. It is giving us great satisfaction and the opportunity to grow professionally while living in an unforgettable place. Hope to see you soon in Barra Grande and most welcome to be our guest.
Personal note of the site administrator.
They are really friendly, deliver a high level of personalised service and… serve out really tasteful food for a somewhat less expensive price than usual over there. Good ambiance, a nice facility, but, yes a but. Their restaurant is not where most people walk. You have to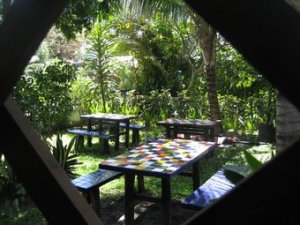 have some luck to find them, or you must ask for them.
Ristorante Sapori d'Italia
(translated: Taste of Italy)
Rua Dr. Chiquinho
Barra Grande
We met in summertime 2011 while staying in Bahia Brazil. The area they live in is really unforgettable.