Rainforest, Rivers, Waterfalls along Route Taboquinhas.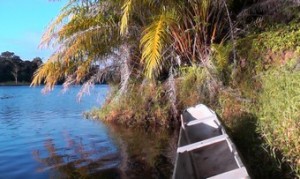 Because of our land near Taboquinhas, are we there every now and than and each time it is a delight to look, feel, hear and smell what nature has to offer. Many beautiful spots, waterfalls, fantastic river life, abundance of flowers, fruits, birds and more remarkable animals.
Itacaré and Taboquinhas are close, a visit a must
People there love their river, providing for a huge variation of fish, which plays an important part on the menu over there. Above Taboquinhas is the river Contas a rafting paradise. Below Taboquinhas is the river basically the best infra structure as a solution for to and fro travel between Itacaré and Taboquinhas. Not really organised at the moment, but it need to be in the future in my opinion.
The Rio Contas is a beautiful river, a source of living for all inhabitants and creatures around and in this river. People catch their fresh food in the river, from small to really large fish, shrimps and river lobster. They swim and canoe there, refreshing themselves and their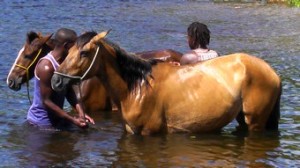 horses. Winning sand from the river bottom to sell it and make a living. A few kilometers upwards Taboquinhas is the wild water area, very well known for 'Rafting' possibilities. From Taboquinhas downwards the river is calmly streaming towards Itacaré and the Atlantic Ocean.
People around the river are ever so friendly. For instance: we wanted to visit a huge waterfall, visible from our side of the river. We saw a guy canoeing and gestured him to come and talk to us. He did it. We made him understand that we wanted to cross the river in order to visit the waterfall. He took the three of us with him, spontaneously acting as our guide, accompanied us on the walk to the waterfall and waited patiently until we had seen enough and returned with us to the place we started from. Adorable, didn't ask for money, though, we gave him some. After all, he spend nearly two hours with us. Unforgettable.
Rio de Contas: a paradise river
This title tells you that the writer of this article loves the Rio Contas. Maybe it is a matter of age, but I adore the tranquil part of the river. The part from Taboquinhas until Itacaré. When this is in my power, I would organize a floating quay, a roofed flat boat with a strong enough motor and a schedule for travel times between Taboquinhas and Itacaré.
This would be a fantastic way to travel to and fro this pair of exceptional neighborhoods. Faster than the bus line, no bumping along, hardly as dangerous as a bus or -even worse- a car and with a scenery of utmost beauty. Actually we are talking about a touristic top attraction.