It's been such a good time.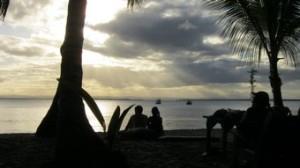 Sitting there, feeling happiness while watching the sunset makes you realise at some point that this ends. Yes, I have to break away and put my thought to the remainder of the evening, about having a meal soon, weighing the options to choose from. This also is part of having holidays, isn't it?
Ending the day in Barra Grande
I want to say something about having a meal in Barra Grande. It is expensive. Expensive in comparison to many other touristic areas around Itacaré. Combined with being expensive is the fact that the quality of a meal is certainly not as high as the price.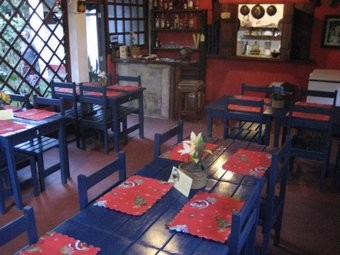 We discovered an interesting Italian couple. They moved over from Milan, Italy, to Barra Grande to start a new life. Very much due to all the good things I wrote about this area. They are really friendly, deliver a high level of personalised service and… serve out really tasteful food for a somewhat less expensive price than usual over there. Good ambiance, a nice facility, but, yes a but. Their restaurant is not where most people walk. You have to have some luck to find them, or you must ask for them. Unfortunately I can't find their business card at the moment. When I do, their address will be published here. Their restaurant bears the name "Sapori d' Italia", owned by Michela and Stefano.
Italian Restaurant "Sapori d' Italia"
Michela and Stefano discovered my blog and meanwhile delivered the address in their comment on this article. Here it is:
Rua Dr. Chiquinho
Barra Grande
Climate wraps the area in marvelous lush
Taipus de Fora is among the most beautiful beaches of Brazil and a main attraction of the Maraú Peninsula, a half hour by a Barra Grande – four wheel drive – taxi. Taipus de Fora offers 'clear water' natural swimming pools and many miles deserted beach.
It was here that we took a photo of huge rain clouds in the sky. Beautiful view, standing in sunshine and cumulus clouds on their way.
We were there in Brazilian winter, a time of regular periods of rain. Not at all bothering though. Temperature is always pleasant and the sun appears every day. Some times for periods and often all day. A fruitful balance to make sure that Bahians vegetation remains fresh and green all year round. Humidity is quite high but not at all heavy to endure. We very much appreciate the climate around Itacaré.
Farewell of this coastal area
Many people from all over the world were attracted and have chosen to live in Itacaré and Barra Grande. A cosmopolitan atmosphere evolved from the blend, relaxed, remaining typical Bahian but also very different from any other place in Brazil, as told by its inhabitants.
This coastal area is a succession of beaches and – near Itacaré – hills covered with lush tropical forest being part of a massive protected Atlantic rain forest reserve, strongly appealing to ecological tourism while surfers since long acknowledge Itacaré as a surf paradise. It's good to be there.