Enjoy its natural and cultural gems.
The beauty of Bahia has become a major tourist attraction in Brazil, the largest country of South America, containing a impressive number of touristic top locations. It is the 2nd largest state of Brazil and contains numerous popular destinations with overwhelming culture, friendly inhabitants and more importantly, a heavenly landscape, tempting for visitors and inhabitants. Have a closer look at the natural interior of the state Bahia, where people with African roots represent the majority of the population. By the way: Cacao Coast -Itacaré / Ilheus- is the favorite destination of writer of this article.
Bahian Tropical Beaches
Bahia is popular for it's comfortable climate round the calendar. Water, suitable tropical temperature and plenty of sunlight together, made this state a relaxing place for all. Summer starts in October or November and the sun reigns almost 9 months in a year. Some great beaches of Bahia with perfect tourist-ambience include: Praia de Apa-Fogo, Praia Itapua, Praia do Forte and don't skip the more than twenty gem beaches surrounding Itacaré to mention a few top destinations.
Rivers and Islands
A number of rivers flow by and around the state. The rivers are calm and the sea waves are charming. With 40 ravishing islands and more than 15 rivers the state attracts millions of tourists from around the world. The Bahian heritage is preserved in many historical structures. It certainly represents the best of colonial Brazil with its cultural treasures and welcoming population. Popular rivers and waterfalls in the region can be named: Água Branca waterfall, Buranhém River, Caraiva River, João de Tiba River, Vaza Barris River, Contas river. And some most popular island tourist attractions are: Bimbarras, Boipeba, Bom Jesus, Fantasia, Fontes, Atalaia Islands etc.
Waterfalls, Lagoons, Grottos and Caves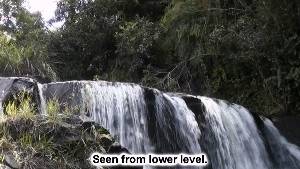 Across the state of Bahia there are many natural waterfalls, mesmerizing lagoons and caves. These destinations are adventurous, distant from the central places and amidst the beauty of unique flora and fauna. Visitors enjoy each moment of their adventurous trip to these natural beauties throughout Bahia. Natural waterslides and bathing in waterfalls, the fresh lively ambience in the surrounding, friendly inhabitants and the beauty of green landscapes encircling created many small and cheerful havens of enjoyment in Bahia. There are some audacious caves, only explored by small numbers of tourists. These are unique places within a spellbinding natural setting.
Top 6 destinations in Bahia | Opinions of travelogue editors and pro-travelers
Salvador de Bahia at 'All Saints Bay'
This is one of the oldest discovered bays of Brazil. Italian navigator Vespucci discovered this big and stunning bay. Salvador, former Capital City of Brazil, overlooks the bay which is encircled by some amazing sceneries. Government has declared All Saints' Bay as environmental protected area. This area features lovely sea water with numerous beautiful islands. As a whole, the place simultaneously signifies historical importance and immense natural beauty. Heading southbound (Cacao Coast) towards Itacaré through Atlantic Rainforest which is considered by the world's scientific community as one of the richest combined ecosystems in terms of it's diversity of animals and plants species in the world. It is also considered as threatened with extinction. Because of this the UNESCO elevated the Atlantic Rainforest to the category of a biosphere reserve and today it is one of the three major conservation priorities in the world.
The principal conservation areas in this region are the APA of Itacaré – Serra Grande and Serra do Conduru State Park. This Environmental Protected Area (APA) is considered a "Heritage of Humanity" and is bordered  in the north by the mouth of the Contas River, in the south by Sargi Creek and in the east by the Atlantic Ocean; with an area of approximately 16,000 hectares (40,000 acres) comprising of rich fauna and flora.
Coconut Coast
This 53km long road along the coast attracts locals and international tourists since 1960's. The road cuts along the north coast of the state, connecting several major cities and directs among others to well known Praia do Forte. The road was later refurbished and inaugurated in 1993, extended to 192 km at that time. Tourists love the beaches in this area for the calm waves and warm seawaters. The coastline is also known for some stunning lagoons and calm rivers. Nautical sport lovers consider it as a suitable place for participating in various sports. Garcia D'Ávila Castle, a historical monument is another major attraction of this coast.
Chapada Diamantina
This is one of the compact natural ecstasies in the state of Bahia. The area features vast tropical forest, plains, mountains, rock walls, caves, waterfalls, rivers, grottos and stunning fauna and flora communities. The place was actually inhabited by Maracas Indians. Later traders, Jesuit priests, foreigners and migrants moved to the vicinity and populated it. The place is known for 50 unique species of orchids, flora and fauna. Chapada Diamantina national park is still one major attraction for the local adventurers. It is located just around the center of the state and considered as an attraction for naturists and cultural tourists.
Pathways to Jiquiriçá
Jiquiriçá basin is located at a distance of 150km from Salvador city. The area is considered as the economic base of the state and it depends primarily on agriculture. The city is basically a city of business and trades for the local people but the natural beauty of this area compels tourists to include it on their explorer list. There are a number of waterfalls, hills, flora, exuberant animal life which attract visitors. The region is also known for some adventurous sports like trekking, fishing, horse riding and canoeing. People living here are friendly; they welcome tourists and explorers and try to help them by all means. The socio-cultural status and festive occasions represent the real imagery of Brazil.
Western Bahia
Sao Francisco river and tributaries is a must see in Western Bahia. The region is known for it's crystal clear water, some amazingly beautiful waterfalls and caves. The region is encircled by a few major cities, such as: Bom Jesus da Lapa, Corrente river valley and Barreiras. The zone is equally attractive for adventure appreciating tourists and people who love to relish peace, natural satiety and quietness.
Sao Franciso valley
Bahia currently undergoes renovation, remapping and restating for attracting tourists from around the world. Brazilian Government has declared the region as tourist development zone. The entire area is consolidated and the cities in this region are undergoing major renovation works. Casa Nova, Juazeiro, Curaca and other major cities are preparing to become the upcoming tourist hubs of Bahia.
FIFA 2014 World Cup
Currently Rio De Janeiro prepares for FIFA world cup 2014. Bahia also sponsors football besides Carnivals as it's native culture. People in Bahia are preparing to provide a grand welcome for tourists and football lovers in the upcoming years. If you're expecting to attend the event in 2014, don't forget to reserve your visit to Bahia. And if you're looking for a natural excursion, you have to know that Bahian beaches, rivers and waterfalls are waiting for you to deliver the experience to never forget.
For those who consider to experience the beauty of Bahia, Brazil, as backpacker or bargain lover, it might be a good idea to visit the CheapOair flight booking site.