Boats from Camamu to Barra Grande, most convenient.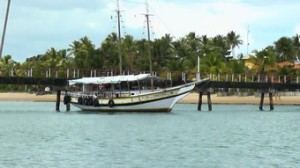 For coastal traveling in the Itacaré area are a few options available. Of course one can use a car – rent one – with or without a driver. Another option is to either use a standard bus – or a vip bus service. As mentioned before in my article about Brazilian bus services, both possibilities offer something nice. Standard service is lively, with so many people moving in and out the bus, while the vip bus offers a high level of comfort and much quicker arrival times. Both deliver the advantage to give a splendid view on the scenery.
We used standard bus service, there was no hurry and the distance to Camamu acceptable. Camamu is build on the shore of a impressive bay. That bay was the starting point of the trip that we wanted to Barra Grande. You have to understand that traveling by car over the Marau Peninsula dirt roads is only acceptable for people in love with rock and roll, if you know what I mean.
About Camamu is not that much to tell. The town is in need of a face lift. Once on the bay one sees that Camamu has beauty to offer. We took a speed boat. Not the nicest way, a bumpy ride. So it was decided there and then that the way back would be in a classic boat, beautiful boats are they, real woodcraft products, typical for this area.
Impressive Camamu Bay scenery
We love boats. Maybe most Dutchmen. We have a lot of experience with being in a boat, sailing the lakes or the sea and utilizing boats for commercial purposes. After driving to Barra Grande in the past, it was clear to us: Take a boat from Camamu and you will enjoy, relax and be revived. When you arrive on Barra Grande pier you are alive and kicking.
We advise you to take a classic boat and you have a trip to never forget, while  charges are next to nothing. These classic boats do have just the right speed and the right stability as well. I mean: you are able to take beautiful pictures or to make nice video shots. We did just that and are really happy with the results which we collected in digital format. Part of our collection is visible on our rich content media site, specially designed to show the beauty of this region. Watch images and movies on Itacare-Brazil.org
Barra Grande is a very special place to be. The pier at the edge of the village is its landmark, surrounded with boats, most of them beautiful classics, the majority used to offer tours in this outstanding water-world. One side direction Camamu Bay and the other direction towards the majestic Atlantic Ocean.
Why are Islands so appealing?
I already mentioned the Islands. Often there are shallow waters around them, especially at low tide you have to wade several meters to get ashore. One of the Islands carries the name 'Ilha da Pedra Furada', meaning Holed Stone Island. We had to walk over a sandbank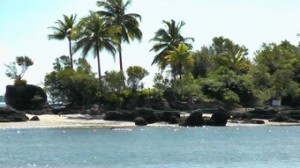 just below the water surface for a few hundred meters, while the boat anchored against a sort of satellite island – a dry spot of the same sandbank.
There are pretty islands all around, with here and there a land tong protruding in to the bay, embracing pretty sandy beaches. It is possible to find a restaurant on the waterfront and sometimes partially above the water, with a nice terrace, shaded by palm trees and surrounded by flowering bougainvillea.
Lobster is delicious there. A pity that no chilled white wine was available this time. But, this is Bahia, you know. More tranquil the area, less according to plan. All this is just funny. The weather is fine – as usual, the water temperature is pleasant, the island is beautiful, the brazilian people relaxed, in short: plenty ingredients for a happy day.
Yes, make use of their boat touring services. You won't regret it. In fact, you will never forget it.
Unforgettable Barra Grande and surrounding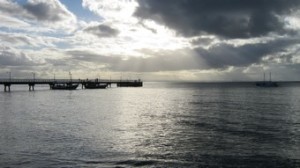 My wife and me love to walk. At home it is almost a daily occupation to take the car, park it in the woods or heather fields and have a walk within what nature has to offer us. Lovely, it never feels like a burden. No it is a delight.
Even more so on the Bahian beaches on this corner of the Marau Peninsula. Exquisite natural beauty drenched by an awesome atmosphere. Seeing the wooden stakes lined up at some distance from the shore, holding up nets of fisherman, slowly disappearing in the changing light of the sunset. Unforgettable it is.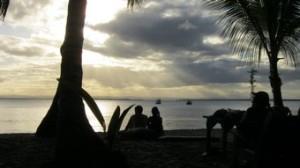 When I sat down in the sand, not far from the Barra Grande pier, watching the sunset and how the clouds were sieving the light I felt extremely happy. Gratitude for being able to live in this splendor. Even only for a few of such days.
Find the video 'from Camamu to Barra Grande' here and enjoy watching it. Or follow the link to open a map of the Camamu Bay, as shown on the Barra Grande website.