By Gary Peyper
1. beaches – Moreré offers easy access to  beautiful, deserted beaches which are great for swimming.
2. weather – Moreré is warm and sunny weather almost all year.
3. safety – the little village and beaches are safe, day and night.
4. reefs – the beaches are protected by coral reefs with beautiful natural pools which are great for diving at low tide.
5. walks – the beaches, mangroves and tropical forests are ideal for walking.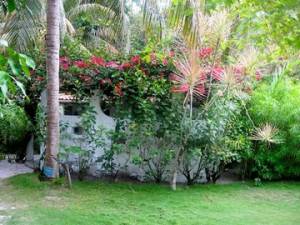 6. the people – the local people are happy, friendly and laid-back.
7. visitors – no mass tourism here; the visitors are sophisticated and eco-conscious.
8. trips – Moreré is a perfectly-located starting point for trips to explore the island on foot,  horseback, in a canoe, a fishing boat, or a speedboat.
9. restaurants – Moreré now has some very good restaurants and  Samburá is one of the best on the island for food and service.
10. my pousada! A Mangueira – a secluded oasis of peace and tranquility where your privacy is respected and I am always on hand whenever you need me.